NYCFC Summer Camp - Randall's Island (Week 7: August 6 - 10) Soccer (Outdoor)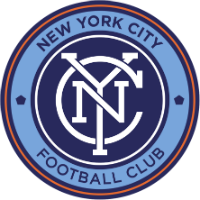 NYCFC Summer Camp
NYCFC Soccer Camps offers week long camps to players of multiple abilities seeking to develop in all aspects of the game in a fun and competitive playing environment. Our camps involve a wide range of game related activities that encourages players to be creative and confident on the ball. NYCFC youth coaches, with national and international coaching credentials, provide expert coaching to players with age-appropriate learning objectives from a curriculum specifically designed by NYCFC Youth Programs & Academy staff to enhance player development.

NYCFC Soccer Camps concentrates on a Daily Technical Topic, a Daily Value, that offers a holistic approach to player development, and a Daily Health and Wellness component to promote a healthy lifestyle.
NYCFC Soccer Camps cater to players of all levels. Camp participants will be matched in groups with players of similar abilities.
Full Day and Half Day options are available. Registration available as an individual, group or as a team.

Available Weeks on Randall's Island
Week 1: June 18 - June 22
Week 2: June 25 - June 29
Week 3: July 9 - July 13
Week 4: July 16 - July 20
Week 5: July 23 - July 27
Week 6: July 30 - Aug 3
Week 7: Aug 6 - Aug 10
Week 8: Aug 13 - Aug 17
Week 9: Aug 20 - Aug 24
Registered campers will receive:
Coaching from NYCFC Youth Program Coaches

1 NYCFC Jersey

1 NYCFC-Sportime T-Shirt

1 NYCFC-Sportime Drawstring Bag

1 NYCFC-Sportime Water Bottle

NYCFC Camp Certificate

1 Match Ticket to Camp Reunion Day at Yankee Stadium

Player Meet & Greet at Camp Reunion Day
Time: 9:00am-4:00pm (Full Day)
Time: 9:00am-12:00pm (Half Day)
Price: $620.00 (Full Day)* per week
Price: $325.00 (Half Day)* per week
Ages: 7-14
Gender: Boys and Girls
Location: 1 Randall's Island, New York, NY 10035 (aka John McEnroe Tennis Academy)
What to bring? Soccer Ball, Soccer Attire, Shin Guards, Soccer Shoes, Water, Packed Lunch, Sunscreen
Transportation Available (Drop off/Pick up available from East and West Side of NYC. Please contact Anthony De Coo, Sportime Director of Transportation, adecoo@sportimeny.com for more information and fees)

Lunch: Players are free to bring their own lunch but please note that lunch options are available ($60 per week)
Email youthprograms@nycfc.com or call 212-738-5837 for Team or Group Rates
---
Camper Fees

Regular

620.0

Camper Fees

Regular

325.0